or
"Are You Ready to FEEL?"  
A video essay by Robert Graham  
There are some songs that can devastate the listener within a bar or two. The power of a ballad to instantly change our mood is such a mysterious thing. I  am sure scientists have studied it, and if they haven't they should. What happens inside our brains when we hear certain songs - especially sad songs - ballads? I don't know.   
What I DO know is that hearing the opening strains of a certain song can immediately and completely transform me. I also know I am not the only one. I could be trying to decide which t-shirt to wear, or whether to have jam or peanut butter on my toast and all of a sudden BOOM! I hear the song and I am spun into a completely different headspace. An instantaneous change of mood hits me like a tsunami: introspection, longing, melancholy, unrequited hope or love (present or past), regret, self-reflection, bitterness, nostalgia, or remembered memories (both good and bad) all immediately appear as if by magic. And it all happens mere seconds into the song. How is that possible? Seeing a graph of the chemicals firing off in my brain when I hear the opening bars of some of these ballads would be fascinating.  
.  
And why do some ballads do it better than others? Where is the line between a cheesy ballad and a meaningful/moving one? Between sappy and profound?   
I am a musician, singer, and songwriter, so I often tend to focus on the musical elements of a song when I first hear it, before the lyrics. I firmly believe that some of the songs featured in this blog could be instrumentals, or could consist of lyrics pulled from a grocery shopping list and they would still affect me this way - simply because of the way the song sounds. The combination of notes, the chord progression chosen, the way the melody is shaped, the underlying harmonies, the vocal performance itself, or all of the above,  is often enough to transport my mind and soul. And yes, the lyrics are often crucial too, particularly when they match the sonic quality of the song. A perfect marriage of music and lyric in a ballad can rip your heart out even more clinically then either can on its own.  
Why I am telling you this - you already know! You are already thinking about the ballads that do this to you, aren't you?  
I have to say something though: It would be awful if the only songs we could ever listen to were ballads. We also need joyous, uptempo, pumping, high energy tracks - or even mid-tempo tracks - just like we need to eat a balanced diet of different foods. It's also fair to say that we don't want to remain in the "altered state" a good tear-jerking ballad can put us in for too long. It's no doubt unhealthy to stay there, in that feeling where the music has us on the verge of tears, or with a lump in our throats.   
But sometimes that is precisely what we want, what we need, at least for a little while. Right?  
I know you have your go-to-ballads for when you want to "wallow in the mire". But I bet you could always use more! You may not like all these songs, but please consider them with an open heart. These songs on this list are mostly by well-established artists that I, and a lot of other people, love - artists with big hits to their name. However, very few of these songs are the songs these artists are famous for. Some of you may have heard of these artists but never heard these songs. For whatever reason they are ballads that came and went and have been largely forgotten. A couple are by people most of you will never have heard of, one in particular, but are nevertheless not out-of-place on this list, in my humble opinion. As always, your feedback is welcome.  
Are you ready? Got a tissue? See you at the end.  
1. "Everybody's Got To Learn Sometime" - The Korgis (1980)  
This song slays me. I never tire of it. Why? I don't know.  At one point a lot of people agreed with me though - it was a hit in 10 countries and went to number #1 in France and Spain. The man who wrote it (and sang it), James Warren said it took him about 10-15 minutes to write. Believe it or not, once, in 2015, on a whim after listening to it, I wrote to him and informed him he had written a masterpiece. Just in case he didn't realize. He even wrote back which was very kind of him.   
So what is it about this song? Is it those insistent yet slightly out-of-tune piano chords at the beginning? The wondrous soaring and violin solo or even the unusual use of the Chinese guzheng? The "wash" of the sting pads on the keys? Yes. Is it also the fact the first words are almost a gentle invitation to change yourself in the way I described above?   
Change your heart.  
Look Around You  
Change your heart  
It will astound you.  
That's part of it too. Words like this can mean everything if you need to hear them. They have meant different things to me as I continue to listen to this song as I get older. Sometimes a gentle invitation, yes, but other times this opening has felt like an "order" - a voice telling myself to change what I was doing. Telling me to be the better person I am capable of being.   
Even the wistful words of the chorus: "everybody's got to learn sometime". Songwriters try for years to write simple yet universal lyrics like this. James Warren did it in 10 minutes - with music.  
James Warren is a good singer but not the best in the world. Who cares? His vocal delivery on the pre-chorus:  
"I neeeed your loving  
Like the sunshine."  
He needs that love. So do you. Can you feel it?  
2. "Drunk Again" - Graham Shaw (2008)  
One day about ten years ago I found a record in a second-hand store. The band was called Graham Shaw and the Sincere Serenaders. They're from Winnipeg, Canada - the city I was born in. I had never heard of the band before but I looked at the cover and something hit me. I thought "this is clearly a group of people who really like each other and look cool and nice. I am going to buy this album right now!"  
I had never before bought an album based solely on the record cover and never have since.   
The album was absolutely wonderful. After listening, I looked up the band online and learned that Graham Shaw, who I had never heard of, won a Juno award (the Canadian Grammys) in 1981. He once signed a record deal with Capitol Records, who wanted him to fire his band -  these delightful looking people - and use session musicians instead. He refused. Such a man is worthy of respect. And besides, how could you fire people who look like this?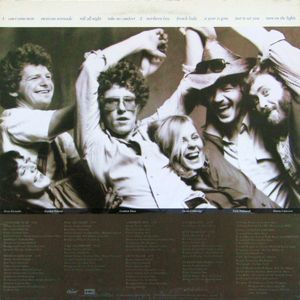 Shaw released a solo record in 2008 which I found online called "Raw Shaw".  My whole family loves it, which really says something about it's broad appeal. You should buy it. It's very eclectic in style but crucially, it contains this jaw-dropping two-minute song. To say it is an unknown song is an understatement: there are only 50 views on the Youtube video. Yes, 50. Are you kidding me? 50 views! 32 were me! I simply can't believe it. There is no justice. Check out these words:  
"All this pain can't stop my believing  
And all this joy can't stop my grieving"  
Isn't that life in a nutshell? Joy and pain waiting to appear at any moment as we live our lives.  
This is the perfect marriage between lyric and music I talked about. Every single word and note work.  
Although Shaw has done well as a composer for TV and a session musician, I think it is a crime that he is not famous worldwide. I mean, I am friends with him on Facebook for God's sake and sometimes he even comments on my posts! That can't be right!   
If Tom Waits had released this song it would have been one of his biggest hits. What do you think?   
3. "She" - Jeff Lynne  
Jeff Lynne is a God to me. A songwriting genius. ELO is my second favorite band after The Police. Listen to this song with the volume as loud as you can - with headphones preferably - so you can hear everything.  
The first time I heard this I could feel tears in my eyes after the second verse. They were streaming down my face by the end.  
I am a sucker for harmonies. I put as many of them as I can in my own songs. But this is harmony on steroids. All sung by Lynne by the way. He sings harmonies I would never have thought of. He literally cannot stuff any more harmonies around this melody. He starts with the unadorned melody - one of the best ever, by the way, written by Charles Aznavour and Herbert Krelzmer (who would surely applaud this version) and gradually builds the tension in the song by adding more and more harmonies until it sounds like you are listening to 15,000 vocal lines by the end. It is an emotional harmony beat-down.  
Once, when I arrived home late from a gig one night I literally listened to this song 10 times in a row in my car in my driveway. Very loudly. I couldn't stop listening to it. It was like a drug, like an obsession, like I was punishing myself.   
Which "she" was I thinking about? My wife? An ex-girlfriend? Nana Mouskouri? Theresa May?  
Actually, when I hear this song I honestly don't think of any person in particular. I just let this song wash over me like a big fat wave of sonic bitter-sweetness. A "long wave" - which is the title of the album it comes from.    
Thank you Jeff Lynne for taking this song, which was already awesome, and making it epic.   
I'm cheating here..... another ELO song, written by Jeff Lynne that was not a hit. Like all the "non-hit" ELO songs - if the Beatles had done it, it would have been a hit. The outro alone defines "majesty". How can one man be so talented? 
4. "I Can Let Go" - Michael McDonald (1982)  
A lot of people make fun of Michael McDonald - the way he sings. They made fun of him in that movie "The 40-Year-Virgin", but I assume (and hope) he was well paid for it. I imitate his voice sometimes for laughs sometimes but it's out of love. I have always adored his voice, especially his early stuff with the Doobie Brothers, and his earlier solo stuff. To me, he is the epitome of blue-eyed soul and is totally unique. No-one sounds like him.  
"I Can Let Go" showcases his vocal prowess. The piano throughout is evocative and melancholy, and the string arrangement is really beautiful too. But it is the voice that melts me every time I hear this song.   
Try this: Turn up the volume when he is NOT singing (i.e between phrases) and listen very closely. You can hear him breathe between phrases, which is rare in a recording. You may have to ride the volume level to hear this. Turn it down when he is singing and up when he is not. You will hear something weird.  
He takes very short and sharp breaths at the last possible second before singing, which is not what you expect. He "snatches' breaths. It sounds like he is hardly taking in any air at all. It is weird and probably not what a vocal teacher might recommend. Near the beginning  he snatches a breath and then, weirdly, snatches another one before he even sings the next phrase - like he didn't like the way the first breath "felt" in his lungs or something! Who does that? So odd. Yet despite this unusual technique and what sounds like poor breath "support", this heavenly sound comes out of his mouth - because he is Michael McDonald. In a way this unusual breathing style also actually enhances the words, like he is unsure what he is going to sing.  
But of course, he DOES know what he is going to sing because he wrote it. The words have never "landed" completely for me because I am not sure what the song, in its totality, is actually about. But if you read the comments on the video the lyrics clearly speak to other people's experiences. Certain parts of the lyrics have definitely spoken to me over the years:   
"It was so wrong. It was so right. Almost at the same time……  
The pain and ache a heart can take, no-one really knows…..  
When the memories cling and keep you there……  
I was tossed high by love and almost never came down.  
Only to land where love's no longer found.  
Where I'm no longer bound.  
I can let go now." 
There is a lot in there: regret, heartache, nostalgia, love lost and found, acceptance. No wonder I relate to this song and probably always will. It is a masterclass in how to write lyrics that touch people. And Michael McDonald's voice generally, and especially on this song, is literally "sung emotion". Why wasn't it a hit? Why don't you ever hear it anymore? I don't know. Maybe you can tell me after listening to it. 
P.S. Another cheat: Listen to this McDonald song as well. We wrote in 1972 when he was only wenty years old. It was released in 1982 on a record no-one bought. How can someone so young be so old? I bet you haven't heard it but you should.  
5. "Might as Well Have a Good Time" - Crosby, Stills, and Nash (1982)  
Listening to this again just now, I am going to say something radical: This is CSN's best song. I love "Suite Judy Blue Eyes", "Marrakesh Express" and all the others. But there is something about this song that is even more special than all their other special songs - at least to me. The album this song came from had three hit singles, but strangely this was not one of them. No-one I ever talk to who is a CSNY fan ever mentions this song - or even remembers it.   
This is a ballad that makes me feel wistful every time I hear it simply because of the way it sounds. David Crosby sings it so beautifully and the harmonies, oh my God, the harmonies!  So close. So much care taken. CSNY are, of course, famous for their beautiful harmonies and this is some of their best work. They break all the rules in this song, rarely singing the chorus the same way twice, varying the rhythm, the inflections, and putting the emphasis on different words. But they never sound like they are showing off. And the pause before the final "Good time" and what they do with the harmony on those two words, slays me every time.  
I say the sound of this song makes me feel wistful, but at the same time the lyrics make me feel hopeful. Life is serious but it doesn't have to be serious all the time. Echoing the story of the busker in the Joni Mitchell song (also covered by CSNY) who "played real good for free" this song also reminds me, amidst the stress of trying to survive as a musician in 2020, of moving to another country, of trying to re-establish a career, of dealing with COVID 19, of worrying about the future of the Earth, that is can still "all about the music". We have to remember about being in the moment. It reminds me of where I belong and why.  
"I belong on the shore  
Hustlin' nickels and dimes  
'Cause it ain't long before it's gone  
You might as well have a good time"  
Close your eyes and enjoy the moments you spend listening to this song.  
6. "The Downtown Lights" - The Blue Nile (1989)  
The Blue Nile are my ultimate "wallow in the mire" band. For me they personify melancholy and just…..well…...sadness. Whenever I am overthinking things, letting my mind race about things I should leave alone, and I need a soundtrack for my thoughts I turn to the Blue Nile. Even my wife once said "If I hear you listening to the Blue Nile I know I should probably leave you alone".  
Mostly, and fortunately, these thoughts usually dissipate in time. But when they are in my head, and I want to "go there" and feel them intensely, it's the Blue Nile every time. Maybe you have a band like this in your life. This band seizes my inner demons, and turns them up to 11.  
Mostly it is the way the band sounds - very electronic, particularly their first two albums, moody, shifty, synth pads, a "wash' of sound. And that voice!  Paul Buchanan is the only person I want to hear when I am in these moods - it's weary, desperate, pleading for solace, dripping with emotional pain. His lyrics are so simple yet descriptive. They form a direct link to what I want to feel. His voice literally manipulates my feelings.  
The production on "The Downtown Lights" is very late 80s but it is still classic Blue Nile. I love how the vocals enter in a completely different key from the intro - it draws your attention:  
Sometimes I walk away  
When all I really wanna do  
Is love and hold you right  
This song is a battle. A battle between what the singer thinks, or rather hopes, must be true: that he is loved. After all, speaking of his lover:  "nobody loves you this way…... It's alright….can't you see?  
Or is it? Is it alright? Yes, he's going there…...  
How do I know you feel it?  
How do I know it's true?  
What is a person to do when they are going to this dark place in their mind? The answer is obvious: Distract yourself. Go somewhere. Go anywhere. Enter the "downtown lights". The city. Fill the space in your head - fill it with anything:  
It will be alright  
The downtown lights  
Yeah, yeah  
But it's an illusion isn't it? You already knew that and you still went. What is the city, really? What does it genuinely offer someone who is seriously conflicted? Hope? The answer, following the first-ever entry of a guitar in the song, comes in the coda:  
The neon and the cigarettes   
The rented rooms, the rented cars  
The crowded streets, the empty bars…..  
I'm tired of crying on the stairs.  
No salvation here. It's ugly.  
The Blue Nile are Scottish. They are famously non-prolific. Four albums since 1981. Just when the world is about to forget them they release another one. They haven't released one since 2004. I think they are done. But knowing them, they might re-appear. I really hope so.   
Regardless, they have left more than enough music to make me feel desperately sad, for which I am truly grateful.   
7. "Can We Still Be Friends?" - Todd Rundgren (1978)  
Like all pianists, whenever I see a piano, I have an overwhelming urge to play it - just for a second, just to see what it sounds like. Is it in tune? Is it amazing sounding or just ordinary? Hopefully no-one will mind if I just…...you know…...is anyone around to disturb?  
Fun fact: In these moments, I always play one of two songs. They are my "piano-tester" songs. One is this one and the other is "Isn't She Lovely" by Stevie Wonder - which is almost the polar opposite to this song - possibly the most joyous song I know Weird eh? It depends on the mood I am in.    
You never hear "Can We Still Be Friends" much anymore - which is sad. Unless you own a piano I haven't tested yet of course.
Why is it one of my two piano-tester songs? I like the way it makes me feel when I play it. This song is so wistful, and I guess I like to feel wistful. The lyrics don't particularly register, not with me anyway. The theme of the song is pretty obvious from the title. But I know the lyrics mean a lot to other people, judging from the comments on the video.  
Again, it is the way the song sounds. The chord progression - is it major or minor? The way the beautiful harmonies gradually take over more and more of the song as it goes on. The fact Rundgren sang and played everything, instrumental and vocal, on this song.    
People tend to know Todd Rundgren's songs but they don't know who Todd Rundgren is. Possibly this is because his songs have lots of variety - they are very eclectic in style. I love songwriters like that.   
The best part of the song though is the bridge. This must be one of the best bridges of all time. It is so enchanting, the bell chimes (Christmas bells?), the "snatches" of vocal snippets in odd places. Very evocative of….something. I can't put my finger on it. But it happens twice in the song and the song even plays out on the bridge, fading into the air. The way it sounds connects to something deep inside of me - a childhood feeling, a memory, or something. Maybe if I play it on the right piano I will remember what it is.  
What about you?  
8. "Sentimental Thing" - Joe Jackon (1989)  
Joe Jackson is one of the most underrated songwriters ever. This magnificent song is not well known at all and it comes from a criminally-ignored record called "Blaze of Glory".   
Jackson's songwriting style deals in extreme variety. He is a fantastically versatile musician and he writes songs which are so different from each other - because he can. He has the musical ability to match his wildest musical imaginings. Luckily for us.   
He is famously cynical about romantic love. Sometimes he is very caustically cheeky about it: 
 "Fools in love...well, are there any other kind of lovers?
Or:  
"There goes another one...another happy couple on the road to emptiness. I think of my father and mother…….can they imagine how two people can get in this mess?"  
I think Joe Jackon might have been unlucky in love.   
But this song is beyond cynicism. This is devastating. The gut-wrenching lyrics, actually sung by Drew Barfield, are matched by the epic string orchestral arrangement and the operatic coda sung by Joy Askew.   
And what lyrics! They lay starkly bare the cold brutality and banality of what love can be, once it's ossified into cold indifference:  
We always were the kind of people  
To take it hard when things would go wrong  
Little things would bother me  
And little things would make you cry  
And after all the confrontations  
When it comes time for saying goodbye  
All that I can wonder  
Is what do I do with these flowers  
And what do I do with my evenings  
And what do you do with that ring  
I'm gonna go now  
No you can't hold me  
Not with such a sentimental thing  
So tell me why I'm feeling nothing  
And tell me how you can't even cry  
Little things are logical  
But if there's a god above then  
can it be that love was  
Just another sentimental thing  
Just listen, and be amazed, by this outstanding piece of art.  
9. "Sky Blue and Black" - Jackson Browne (1993)  
Anyone who knows how I feel about Jackson Browne. He is my songwriting muse. He, more than anyone else, has the ability to write songs that speak to the feelings I have inside me, uncovering meaning that gets broader and deeper as I get older. Some of these songs he wrote in his early 20s. How can that be?   
I greatly respect him because he also wrote songs calling for social justice and the plight of the oppressed. He wrote songs heavily critical of his own Government, especially regarding their policies in Central America in the 1980s and quite rightly. I think because of this, he kind of "disappeared" after the late '80s in terms of mainstream success. He was blackballed in my opinion. It's too bad because he has continued to release great albums.   
This song came from a gem of an album, 1993's "I"m Alive" (perhaps a nod to his career status?) There is not a dud on it, but the title track and this one, "Sky Blue and Black" are the best. This song is again, wistful in tone, with lyrics that speak of unconditional love, love that remains unconditional even after the relationship itself is gone. Even when it was your fault the relationship is gone. Even when you realize you blew it.  
But the moment has passed by me now  
To have put away my pride  
And just come through for you somehow  
It's so reflective and honest, and the intensity and sadness are ramped up on the bridge:  
And I'd have fought the world for you  
If I thought that you wanted me to  
Or put aside what was true or untrue  
If I'd know that's what you needed  
What you needed me to do  
Self-assessment:  
"You're the hidden cost and the thing that's lost in everything I do  
Yeah and I'll never stop looking for you…..  
That's the way love is"  
If these words are speaking to you as you read them, wait till you hear the music, Browne's weary and soulful voice - so honest and raw.   
Last cheat, I promise. It was a real toss-up between "Sky Blue and Black" and this Jackson Browne song, from 1976. It's just so beautiful and sad. Do yourself a favour:   
10. Has Anyone Ever Written Anything For You? - Stevie Nicks (1985)  
This song was written for a particular person. There is a definite story to it which I am not going to share here because really, like all songs, once they are released they become the property of everyone in some way, as NIcks has said herself. You can look up who she wrote it for and why if you want. She said she wrote this song in about 5 minutes. I guess the feelings she was experiencing at the time were so intense that she just sat at the piano and "played her feelings" as music. I find that incredible. Despite the fact this song took only 5 minutes to birth, it is one of those songs I talked about in the introduction - a song that changes your mood instantly.   
Pretend you have just found out that you won the lottery. You jump in your car because you want to tell your significant other the good news at work. You turn on the radio and hear this song. BOOM! You are no longer euphoric, no longer excited. You are sad, introspective, you are feeling whatever the song manipulates you to feel. Such power! And all done in 5 minutes. Sheesh.  
This song was not a big hit. It reached #60 in the U.S. and only for two weeks. What the hell? I only heard it because I bought the album and it happened to be there. It stopped me in my tracks. Firstly her voice. It's Stevie Nicks after all. Plus, the song starts with a question. In fact two questions. It's like Nicks is in a private conversation with you:  
Has anyone ever written anything for you?  
In all your darkest hours  
Have you ever heard me sing?  
Then a gentle command emphasized with the sudden appearance of sonorous strings:  
Listen to me NOW  
I'm listening. How could I not?   
"This is YOUR song"
Who "your" is can be different each time I hear it.  It might be me. Or someone I want to write a song for. Maybe I am wishing someone would write a song for me? Maybe I should write a song for _________?    
Again, words that open the door to imagination. They don't "tell', they "suggest".   
Then the bridge comes in suddenly;
"And the rain comes down!"  
Like a bolt of lighting. Sweeping magnificence. Right up there with some of the best bridges ever. The way it leads back into the verse and the key change! You don't even need to know anything about songwriting to feel the power.  
Then suddenly the strings disappear and Nicks is whispering. Whispering to YOU:  
So, if not for me, then  
Do it for yourself  
If not for me then  
Do it for the world  
The song fades away and you have been changed. For a little while at least. Life goes on and soon you can ignore the feelings this song has stirred up. Until you hear it again. And even then the feelings may be different: the power of a good ballad.  
Are you ready?  
CODA  
I sincerely hoped you "enjoyed" hearing these songs. I really love writing about what these songs mean to me and I hope they connected in some way with you. I am very grateful you read this.  
It was really tough to choose just ten songs for this list so at the bottom of this blog I am going to offer a whole bunch more - just in case you are not ready to return to reality and want to "wallow" a bit more  
Thank you for reading this one. Please check out my other blogs here
And check out some of my own ballads here
Like all musicians, it is hard for me to make an income right now. If you can, consider donating a small amount to help me out. Or perhaps you could join my mailing list.
Most importantly, let me know you were here by commenting at the end of the blog. I would love to know your thoughts about these ten songs and what you feel about ballads generally. Thanks!  
Here is promised "long list" - the ones that almost made the list:  
"Lord Is It Mine" - Supertramp
"Skyline Pigeon" - Elton John
"Midnight Bue" - ELO
"Wishing" - ELO
"Be My Number Two" - Joe Jackson
"Bon Voyage" - Little Heroes
Thanks again for reading this. Comment away! 
Robert