"An essay with video"
By Robert Graham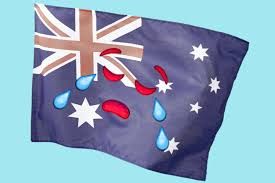 I moved to Perth, Western Australia in 1983, from the West Coast of Canada. I was 12-years-old. In many ways, it was like landing on the moon. So different. 
I lived in Hillarys that first year. Apart from Ocean Reef that was as far north as you could get at that time and still be in Perth. I had never seen so much sand. 
I went to Duncraig Senior High School. Lots of fights. Lots of bogans. Black jeans, black desert boots, and black AC/DC T-shirts. And mullets of course. My twin brother and I were tragically forced to wear the same school clothes our Aussie parents wore in 1950's Australia - brown short-sleeved collar shirts, brown shorts and brown…….(gulp) sandals. Combine that daggy attire with a funny accent and skinny white legs - well, naturally we became targets. We had to adapt and survive. 
There were other differences too. Remember, this was 1983 - before mobile phones, before iPods, even before walkmans. Kids actually walked around carrying huge portable stereos…….boomboxes. They were heavy as hell, but kids would still hold them on their shoulders, crammed next to their ears, all day. Some of the songs I remember hearing on those things - at peak "distortion-level" volume - during lunchtimes at Duncraig SHS in the summer of 1983 included this oddity: 
And this Aussie beauty:
Soon after we arrived my parents bought me my own little boombox. Actually it was more like a radio with a cassette player. Sanyo. "For people in the know" as the jingle went. My brother got one too. I guess it was to cheer us up as we negotiated living on another planet. I remember taking that thing to my room for the first time. I will never forget that feeling of ecstasy. For the first time in my life, I had control over the music I was listening to. 
Naturally, being the age I was, I chose to listen to the same music everyone else did. I tuned in to 6PM - the radio station which I think is now called hit 92.9FM. Strictly AM back then of course. I listened to "Yorkie" and "Burgo". All the hits. All the time.
It's funny what you remember. The very first song I heard, on my new stereo, was this one - "Reckless" by Australian Crawl. I was in my unairconditioned room, in the summer of 1983, sweating like a pig, I tuned into 6PM on my new "stereo" and this song was just starting:
I heard this song many times that summer. The mood of "Reckless" certainly matched my impressions of my first Australian summer: Dry, hot, heavy, oppressive, and ominous. It felt to me like this song was the musical equivalent of watching heat haze rise off a bitumen road from a distance. And seriously, this song was 60 beats per minute! How could a song that SLOW be a hit?  And what was with all the vibrato in the dude's voice? 
"She doen liiiiiiike…...that kinda behave yaaaaaaaa".
Also, how can a ferry be "manly"? What the hell were they singing about? Is this English?
Clearly I had a lot to learn about Australian music. 
And you know what? I did learn. And what I learned has impacted my songwriting to this day.
Thanks to that little boombox, I learned quickly, and very soon I was in love with Australian music. As the decade wore on, I fell in love with "all the hits" - as well as the Aussie music released before I arrived. I remember writing to my old Canadian "mates" back home and asking if they had heard the latest song - maybe Dragon, or Mental As Anything, or Cold Chisel, and being shocked to hear they had never heard of them! I simply could not believe how songs this good were not worldwide hits. 
For the younger ones out there: This was before the internet. Getting "discovered" today has its own challenges, but it was much harder back then. Australian bands had to first conquer their own country - something which could only be achieved by relentless touring back and forth across what is, after all, the 6th largest country in the world. These bands were all hoping for one chance - that someone in North America or England would "notice them" and bring them over. Maybe to tour with a big-name band, get them some headlining gigs as well, break them in an overseas market. Several Aussie bands DID make the transition of course: INXS, Men at Work, Midnight Oil, Little River Band, Air Supply, and of course AC/DC. Most of these bands were HUGE down under before they found success overseas. 
There were other Aussie bands who, in my opinion anyway, were just as good (even better) than those bands. But for whatever reason, they did not "make it" or at least did not make it as "big" overseas as they should, or could, have. For some, it was just bad luck, others bad timing, poor management, dumb marketing, or a combination of all of the above. Cold Chisel's legendary single "My Baby" was sent to radio stations wrapped in a nappy (diaper). Probably not a good idea in hindsight. 
And then there were the spectacular "own-goals". The relentless domestic touring often meant that by the time some of these bands were ready to hit the next level, they were so destroyed by alcohol and drugs from being on the road that they just dropped the ball. Dragon comes to mind - an absolute tragedy for a magnificent Australian/NZ band who lost several members - including their drummer, their greatest songwriter, and their lead singer - way too early. I won't even go into what happened when they finally made it to the U.S. to open for the Johnny Winter Band. I respect the remaining band members too much to re-tell that legendary - and ultimately tragic - story. But let's just say the blew it, as they readily admit. RIP Marc, Paul, Neil - such magnificent talent, gone too soon. 
I moved back to Canada as a 30-year-old, but now I am recently back again, now aged 49. Because my life so far has mainly consisted of me lurching back and forth between the two countries, to be honest, from the age of twelve (the first "lurch"), I have never really felt completely "at home" - no matter where I lived. That is the downside of the life I have chosen. But now, in 2020 - and I am not joking when I say this - driving around in my car and hearing songs like these come on the radio - songs I have chosen to write about it in this blog and many more - make me feel like I have made the right choice about where I am - for now. That's how deeply I feel Australian music and the stories behind the Australian songs I was privileged to grow up with. 
Being a career musician, in those almost 20 years in Canada, I played a lot of shows performing songs written by other people - in bands and as a soloist. But I never played any of the songs like the ones on this list in Canada. People want to hear what they know - so why would I play a bunch of Aussie songs no-one had ever heard of before to a room full of Canadians? But awhile ago I was driving near Freo and I saw a pub with an "open mic - tonight" sign out the front. I stopped in to check it out. It was pretty quiet - maybe five guys my age there (three of whom were musicians) but believe it or not, a grand piano. When it was my turn to play I ripped out "Are You Old Enough?" by Dragon. The five guys viscerally freaked out. And it felt SO GOOD to play that song for the first time in decades for people who actually knew it! There followed a flurry of requests, mostly involving Aussie music of the '60s-'80s. By the time I finished those five guys had texted several of their mates and after half an hour there were maybe 12-15 people there - all singing along. It was so much fun to reconnect with those great songs after so long. I went to bed that night deliriously happy. 
In this blog, I want to pay tribute, decades too late, to some Aussie songs that I believe SHOULD have become well known overseas, but weren't, for whatever reason. Remember, these are not songs that could ever be hits TODAY - most were definitely "of their time". But these are songs that have stood the test of time and are still played, and are still popular today, but only in Australia (and maybe New Zealand). 
Time-machine time: Imagine yourself back sometime between 1977 and 1987, listening to what you were at that time; Maybe Tina Turner, Bruce Springsteen, The Police, or Supertramp, Toto, or Michael Jackson. Now, in that context, in that head-space, listen to THESE songs. Some, to me, just "sound like the way Australia feels". Some are deliciously "cheesy" - even though I didn't know that at the time. Others are just so damn hooky they just can't be ignored any longer. Some make me want to cry because they are so nostalgic. And some, to be honest, were not even big hits at the time they were released in Australia, but have grown in stature over time, simply because of their awesomeness.
When I made this list of ten songs I had to leave out TONS of other songs. I could easily do a Part Two or even Part Three. Once you've heard them, I welcome your comments - what do YOU think of these songs? Are they as great as I think they are?
1. "Errol" - Australian Crawl (September 1981) reached #18 in Australia. 
Not all "Australian Crawl" (mostly known locally as "Aussie Crawl") were as comatose as "Reckless". They also wrote songs with amazing energy, awesome harmonies, great hooks, and wicked grooves that are still hard to forget.
I perfromed this song with my Toronto band "The Fairest and Best", as one of our rare cover songs, almost 40 years after its release. When I first pitched it to the band they loved it instantly - within a few bars. The audiences loved it too. This song also continued the proud "Aussie Crawl" tradition of having completely indecipherable lyrics. When I had to learn to sing it in Toronto I could not believe what the words actually were! "He's billing the Nazis?"  For years I thought they were singing "He's Ilie Nastase" (the Romanian tennis player!)
This song was voted the 52nd most Australian song of all time in the "Triple M Ozzfest 100", which sounds about right. For the record this song is not about tennis, it's about the legendary Aussie actor Errol Flynn and how they wanted to be like him because he was "swashbucklin" and a hit with the ladies apparently - none of which I knew until about a year ago, despite knowing the song since 1983. I challenge anyone, even the Aussies who are reading this, to sing along and get 50% of the lyrics correct. But ultimately who cares? It's complete pop/rock heaven and the bridge on it is sonically just like Australia is geographically - wide open and full of space: 
Speaking of "wide open"........ 
2. "Wide Open Road" - The Triffids (1986) reached #64 in Australia 
This song. Oh my God. All those years in Canada, whenever I was missing Australia I would play this song and just "wallow in the mire" to quote the Doors. An uncredited reviewer said, about this song: 
"….no other song has so perfectly captured the sense of vast, uncharted expanses which characterizes the Australia of our collective imagination." 
And another: 
"....it uses the Australian desert as a metaphor for the distance between people and for the sense of loss following a failed relationship." 
That is the amazing thing about this song. It uses everyday rock instruments: very simple yet ominous keyboard pads, sharp and violent guitar, and an explosive drum fill - and combines them to tell a vivid story - a story of how vast and lonely Australia can feel, especially when love has gone wrong. Word-painting at its best. 
However, do you think you would have dug this song in 1986 if you had heard it where you lived?  To be honest, it wasn't really a hit - even in Australia. It only hit number 64 on the Australian charts. But boy, is it a revered song in Australia now. APRA (the Australasian Performing Rights Association) named it in the top 30 Australian songs of all time and the Triple M Ozzfest 100 called it the 64th most Australian song of all time, which sounds low to me. 
It's not poppy or stylish. But many Australians adore it. You non-Australians, pretend you are Australian for a minute and it's 1986 and you just lost your girlfriend/boyfriend. It hurts, and now you are on the "wide open road" - by yourself. You have your freedom but you don't want it. How do you think it feels? 
3. "Cool World" - Mondo Rock (March 1981) reached #8 in Australia 
Those of you who know me, know that I love pop music. I am not ashamed to admit that. I write pop music after all. "Pop music",  of course, just means "popular music", which is why some people are snobby about it. I am not a big fan of the music that is popular today, but I loved what was called 'pop music" in the '70s and 80's - a lot of which was actually"rock". It was the era when "pop" was "rock". 
I'm going out on a limb here: Mondo Rock was one of the best pop bands of the 80's - in any country. It is criminal that they are not famous worldwide. A lot of songwriters can write good choruses. But even though different members wrote the songs, their songs not only had terrific choruses but also catchy-as-hell verses and some exquisite bridges. In other words, as far as pop songs go they were literally perfect. And did I mention harmonies? Dripping with harmonies. The kind of songs I try to write.  Bands like Mondo Rock influenced some of my own songs, like "Celebrity" and "When I Feel Like This".
It was hard to decide which Mondo Rock song to choose - so many gems - but I went with "Cool World". Why is this song not as famous as "Just What I Needed" by the Cars? It is quite similar to my mind. Menacing 'chunk-chunk- chunk" guitar off the top, but also "other-worldly" keyboard filling the spaces between the words and perfect organ stabs on 2 and 4. 
The song was written by lead vocalist Ross Wilson. I saw him perform live a couple of months ago. He looks different from the way he did last time I saw him at the Raffles Hotel in 1991, but he still had the swagger, the sexy and versatile voice, and of course, the most important thing - he still has the songs. He and his bandmates wrote great songs. This is one of them. Do you agree? Let me know at the end in the "comments "section!
4. "Sunshine"- Dragon (July 18th, 1977) reached #36 in Australia 
This song has a special place in my heart. In 2009, when I was recording my debut record, my Canadian producer Chris Brown suggested I include one cover song, an Australian song, to highlight my Aussie heritage. Straight away I knew it had to be a Dragon song. I adore Dragon. Brilliant songwriting, awesome hooks, great harmonies, wonderful musicians, and of course Marc Hunter's voice - so mighty and soulful. I tried my best to do it justice. 
I was thrilled to hear of the reception the song got from some of the session musicians in New York when it was recorded. I even sent my version to Marc's brother Todd, who was an integral part of the band and still is. I was overjoyed with his kind words about my version, and I think he was quite chuffed that the song was getting new life - 32 years later - on another continent. Todd is a class act, as you can see from his acceptance speech when the band made it into the ARIA Hall of Fame:
But to be honest, this song is hard to screw-up. It is such a perfectly written pop song. The opening piano riff (who starts a song with piano anymore?) is like an invitation - what's going to happen? Well, Marc's sexy and languid vocals are what "happens" and band's rhythmic "pushes" on certain beats combine beautifully with his voice. This song has two bridges - both of them golden, especially the second one where Marc pleads for attention: "Ballerina! Come on…..smile at me!" And the harmony-drenched chorus?  Of all the songs The Fairest and Best played - this chorus was the one that got people singing along the most. (Admittedly, this was occasionally annoying as some nights it was the only song we would play which I hadn't written!) 
Dragon are actually a Kiwi band - but were mostly based in Australia. "Sunshine" was written by Paul Hewson, a now (I fear) largely forgotten songwriter who wrote many of their best-loved songs in the 1970s before tragically passing away in 1985 from a drug overdose. Think of your favourite Dragon songs and he probably wrote them - what a shame he did not live to write more. 
This song was released in the U.S. but did not chart So what do you think? If you lived outside Australia in 1977 (or can time-travel in your head)......is hit or no hit? Does it stand up today? 
5. "When the War is Over" - Cold Chisel (July 1982) - reached #25 in Australia 
When I tell Canadians that Cold Chisel has a greater hold on the public consciousness of Australia than the Tragically Hip do in Canada they look at me with raised eyebrows and say "C'mon Robert…..really?"  It blows my mind that  I have never met a Canadian who has heard of Cold Chisel. 
It's true though.  Literally everyone in Australia knows Cold Chisel. Maybe they don't know their name, maybe they don't like them, but they know their songs. They are inescapable. But not in a bad way, like hearing say, "Feliz Navidad" in Woolies in mid-November. 8-year-olds to 80 year-olds know the band's songs. The reason they know them is that they had SO MANY GREAT ONES.
So much variety in the styles of songs too. I agonized over which once to use for this blog. "Flame Trees?", "Forever Now?", "Saturday Night?", "Breakfast at Sweethearts"? Please, I beg you, listen to these songs too. 
"When the War is Over" stops Australians in their tracks as soon as they hear the opening bars. I've seen it happen so many times. People are doing something else, thinking something else, and then this song comes on, and BANG! They stop. They get a funny look on their face - sentimental or soppy. They listen. They sing along. They feel something. It's the same for me. 
Maybe it's because it starts with the chorus - which is unusual - or WAS unusual back then. I ended up choosing this Chisel song because it features both of the band's singers: Jimmy Barnes, who had a little bit of success in North America as a solo artist, as well as Ian Moss, who was also the band's lead guitarist. If Cold Chisel was Fleetwood Mac, Barnes would be Stevie Nicks - an awesome and unique vocal powerhouse, while Moss would be Christine McVie - underrated, maybe even under-appreciated - but just a wonderfully soulful musician and singer. 
Listen to the emotion in the vocals. The spare notes of the guitar solo - so perfect. No flash. That's the Ian Moss style - unassuming. And Barnes's vocal entry is timed so well - soaring on the upper harmony of the bridge before taking over vocals on the following verse. How can one band have two such great singers? And on a purely technical note - how the hell can Jimmy Barnes sing that high? 
By the time the song finishes with the final organ chord pulsating in your ears, you feel like you have lived through an event. 
Maybe you've never heard this song. Am I overstating it? Let me know! 
6. "Icehouse" - Flowers (October 1980) - reached #4 in Australia 
Ok let's get this straight - the band "Icehouse" was first called "Flowers". Flowers's first album was called "Icehouse" and it contained this single - also called "Icehouse". When it was released overseas in 1981, Flowers had to change their name to "Icehouse" because there was a band in Scotland called "The Flowers". Clear as mud? 
I also have to point out that Icehouse (the band) did ultimately have quite considerable success overseas - particularly in the U.S - top ten hits actually - but mainly with songs which I personally don't think are their best eg. songs like "Electric Blue" and "Crazy".
This song is one of their best, and certainly one of their most interesting. For starters, lots of songs of this era used to "fade out", i.e. there was no definitive ending. But this one "fades in". You have to listen really hard to hear it at first, and then it starts getting louder and louder. A low ominous synth pad with thudding electric drums. It's getting louder! What's going to happen?  A voice enters, a robotic voice, almost disembodied: "It's always cold inside the icehouse". When I first heard it, I felt the "coldness" of the song instantly - it chilled me. The whole thing sounded like a dystopian horror movie - like I'd just woken up and stepped outside to find the world had gone through an ice age while I was sleeping and the world was now inhabited by zombies. 
I learned through researching this song that the writer and vocalist Iva Davies, wrote it about a house in Lindfield that he lived across the road from  - a shabby-looking house where the lights were never turned off, and people came and went all the time. He found out later it was a house for psychiatric and drug rehab patients. "The girl outside the icehouse" Davies sings about - the one who is "dreaming of new love"? I assume she was one of the short-term residents. I hope she found love somewhere else later in life, because tragically, "there's no love inside the icehouse". 
Gary Numan released "Cars" in the year before this song - one of my favorite songs. If you like that song you will love "Icehouse", I bet. I tried to write a song like this too - the synth pads, the echo on the vocals, the "dystopian" feel. I called it "Living in a Coma".
So, what do you think of "Icehouse"? Hit or miss? 
7. "Bye Bye Pride" - The Go-Betweens (August 1987), failed to chart in Australia 
Like "Wide Open Road", this was another go-to song for me to "wallow in the mire" too in Canada when I was missing Australia. In fact, when I moved back here a few months ago, I found this song on an old cassette, plugged my tape player into the dusty rarely (never?) used electrical outlet in the dusty shed of my rental, grabbed a beer, and listened to it again in the back yard - only this time I was listening "in Australia". I wanted to see if it felt any different. (God, I'm a dag) It did by the way - feel different I mean. Dare I say it? It felt like I'd come home. 
I love The Go-Betweens so much. Their music is unlike any of the other bands I usually like and unlike anything I could ever write. Their music is so deceptively simple, their arrangements sound almost accidental sometimes. They are a pop band who never had a real hit - unless you include "Streets of Your Town". Their fans are rabid and loyal. Like Cold Chisel, they had two lead singers (and two writers). Neither were technically great singers. Robert Forster, who I was thrilled to briefly meet on a freezing cold November night last year at his solo gig in Toronto, is, to my ears, a very obtuse, disarming writer and singer. His songs are the antithesis of traditional Aussie "bar-rock". They are intellectual, weird, and diverse, and he has a wonderful tendency to occasionally sing "in-between" pitches, not flat or sharp, but just….i don't know…..just "Robert". Watching old interviews with him, his personality back then, and even today is so Australian, yet so un-Australian at the same time. He is a poet in the mold of Canada's beloved Leonard Cohen, I believe anyway. 
"Bye Bye Pride", was written and sung by Grant McLennan, who sadly died in 2006 at the age of 48. This fact adds poignancy to this song for me. His voice is different to Robert's - incredibly warm and comforting - when he sings it is like he is reading you a soothing bed-time story. His songs were the closest ones the Go-Betweens had to hits - much more poppy. 
Why is this song so great? Well, firstly let me ask you: Have you ever been lonely? The pre-chorus, sung in harmony with Amanda Brown, and despite Grant's calm vocal style, nevertheless spells out our well-known collective pain: 
"Well, I didn't know someone could be so lonesome. Didn't know a heart could be tied up and held for ransom". 
But the chorus comes indirectly afterward, like a whispered word of comfort: It's going to be ok. Just keep going. 
"Take your shoes and go outside. Stride overstride. Walk to that tide. Because the door is open wide" 
The other great thing about this song is Amanda Brown's oboe playing. It is there for the whole song - darting in and out and playing with the vocal, before finally being given centre stage for an epic solo. The best (maybe the only?) oboe solo in a pop song ever. Only the Go-Betweens would try that. 
8. "One Perfect Day" - Little Heroes (March 1982) - reached #12 in Australia 
This song, and Little Heroes' other great song "Bon Voyage", both speak to a feeling I carry around almost all the time.  I'm sure a lot of people do. Always missing someone. Someone who is far away from me. Someone in another country. Someone who left me behind. Or I left behind. 
Please promise me you will listen to "Bon Voyage" - it is one of the most melancholy songs I have ever heard. I found it hard to leave off this list. 
As for "One Perfect Day" it's a combination of various elements that gets to me. Lyrically, it's a wish - a wish for a "perfect day" when we are both together, walking and talking. Oh, wouldn't that be wonderful - to not have to miss you anymore? 
It's also a conversation, like a phone call. Awkward. When what you want to say is different from what you actually say. You "can't stop thinking", so you call and ask: 
"You over there…..are you happy there?.......Tell me what you did last night….." 
And the most devastating line in the song, a wholly-inadequate choice of words to describe the pain of separation, the huge chasm between what you feel inside and what you actually manage to spit out, before you hang up the phone, and begin to immediately start to wish you had said more: 
What you think: "Adventures so hard to come by."
What you say: "If you ever come back..... just drop by".
Yet you know they won't be dropping by, at least not tonight, when you really need them. 
But it's not just the lyrics - it's the way the "One Perfect Day" sounds sonically. Roger's Hart's voice is so perfect for the song. His vocals are so world-weary, so old-sounding for a young man. It's like it's a huge effort for him to sing it. At the end, as he repeats "one perfect day" over and over you can feel how much he (and you) want that day to arrive. So much yearning through music
Sadly Little Heroes did not last long (1980-1984) and you don't hear their songs much anymore. Not many people remember them when I mention their name - even in Australia. But they left behind at least two beautiful songs as a legacy. 
Do you agree? Or am I too sentimental? 
9. "Lady What's Your Name" - Swanee (1982) - reached #13 in Australia. 
Ok, clearly this song will not be everyone's cup-of-tea. There is a ton of fromage in it. And for the love of God, do not watch the video, or at least the part featuring the woman of Swanee's affection. Watching it makes one feel like they are gagging on fresh steaming French camembert. 
But just remember, back in 1982 the people (like me) who loved this song didn't know it was cheesy. It was just a heartfelt song about unrequited love. That's what I was into at that time and a lot of people were, and still are. So sue me! The songs change but the theme remains. Love. Who knew? 
If you ignore the video and park your cynical side, you will have a better chance to hear what I hear in this song. An absolutely powerhouse vocal performance. This guy's range and control is incredible. Perfect pitching, even when he uses variations on the melody and the articulation of the melody. The melody is perfect, starting with short phrases, with each one getting longer the more he sings" 
"My eyes meet yours" (short). "I'm in despaaaaair"  (longer) "I have to hide my face somewhere" (longest). So good. 
The pre-chorus is magic. It even has the obligatory key change three-quarters of the way through the song and the classic fade-out ending. So structurally this song qualifies as certifiable cheese. But importantly, Swannee sings it likes he means it. I contend that if this song had been released by, I don't know, maybe Billy Joel or Barry Manilow, and in a bigger market, it would have been a big smash. Again, remember the era. 
Swanee's real name is John Swan. Believe it or not, he is Jimmy Barnes's (from Cold Chisel) older brother. So he comes by his vocal capabilities naturally. He still tours to this day. He had another couple of hits. One called "Temporary Heartache" is also very good. 
You may get the feeling I am a bit defensive of this song - which, of course, is true. But I have been in the situation this guy is in, desperate for a woman to notice that I love them. Or at least I think I love them even though I don't really know them - your typical teenage boy in other words. It hurts a lot - at the time anyway. Don't you remember? 
I have also been in the situation Swanee is in during the video (Okay I know you watched it!). Sitting at a piano, in a bar, or a restaurant, hoping the strangers in front of you will like what you are doing. And you can't tell me that if you went out for a romantic dinner with your partner and the hired musical help ripped out this performance while you were waiting on your chicken parm, you would not be dead impressed. Be honest! 
10. "What About Me?" - Moving Pictures (January 1982) reached #1 in Australia 
Several times I have heard an Australian inadvertently say  - for whatever reason - "Oh yeah mate? Well, what about me? Only to have the rest of the chorus of this song sung in their face by whoever is in ear-shot. 
"It isn't fair! I've had enough, now I want my share!" 
"What About Me?" is a well-known Australian song and the only one on this list to go to number #1 in Australia. 
Actually this song got love in the U.S too, spending a massive 26 weeks in the top 100, reaching #26 and staying on the charts there for quite a long time But despite that, you don't hear it much outside of Australia. I never heard it once in the 18 years I lived in Canada. 
Moving Pictures could have been even bigger in North America, but their proposed U.S tour, supporting REO Speedwagon, Tom Petty, and Hall and Oates (can you imagine!) - not to mention several headlining shows - was canned because their record company was "reorganized" and they got dropped on the eve of the tour. How awful! 
To me, this song has a real "theatre" quality to it. It sounds like it could be in a musical: The thundering synth string entry. The lyrics, which tell a story right from the beginning: 
"There's a little boy waiting at the counter of the corner shop. 
He's been waiting back there, waiting half the day. 
They never ever see him from the top" 
The politics in the song are interesting too. In the first verse, we hear of the kid at the counter who is being ignored. The writer, Garry Frost, apparently wrote it after seeing a small autistic boy being ignored by the staff behind the counter of his local shop. But also, in the second verse, we discover that the woman behind the counter, the very one who is ignoring the kids, is also suffering the same fate!
"There's a pretty girl serving at the counter of the corner shop 
She's been waiting back there, waiting for a dream, 
Her dreams walk in and out, they never stop." 
Wait a second, is this song a call for a revolution - a "revolution of the ignored"?  A call-to-arms in the guise of a pop/musical theatre power ballad? By the time we get to the bridge there can be no doubt: 
"Take a step back and see the little people 
They might be young, but they're the ones that make the big people big" 
I could be reading too much into this but hey, with the pounding timpani shots, the sweeping orchestral passages, not to mention the much-needed respite found in the cool and calm sax solo (with tasty fretless bass), I'm clearly inspired to believe in working-class rebellion. 
This song also inspired a song I wrote about a loser called "Jonathon Baker" - a "little person" if ever there was one.
Before I finish, as one of the commentators on YouTube pointed out, bonus points for Moving Pictures for singing the Australian version of the word "can't" ("Cahnt") instead of the American version on the track's chorus, despite the band's ambition to conquer America. Well played, Moving Pictures, well played. A small win for the "little people". 
But what do you think - am I overthinking this whole song?
Well, over to you!
So there you have it: ten legendary songs from Australia. I tried to explain why I love them and why many other Australians love them. How did I do? I would love to hear from you in the comments section. Did you like them? Did you hate them? Are you indifferent? I would love to hear from non-Australians….had you ever heard these songs? What is your mini-review? Also Australians: do you think I accurately portrayed the way YOU feel about these songs. 
If you want to see for yourself how songs like these have influenced my song-writing I would be honoured. You can do that here.
Thank you for reading this one. Please check out my other blogs here 
Like all musicians, it is hard for me to make an income right now. If you can, consider donating a small amount to help me out. Or perhaps you could join my mailing list. 
Most importantly, let me know you were here by commenting at the end of the blog. I would love to know your thoughts.
Let me know what you think!! Thanks for reading!
Robert Graham