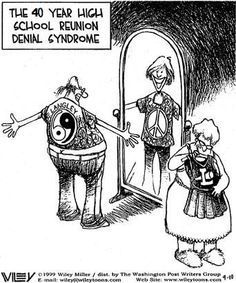 or:
"My First Attempt at Comedy"
Thanks to my COVID 19 downtime, I recently ticked off something that has been on my "to-do" list for years: to write and perform a comedy sketch - but not just any comedy sketch! 
When I first moved to Australia in 1983 "Australiana" was number 1 on the music charts. I think it is the only time a comedy sketch replaced an actual song as number one in Australia. It was by comedian Austen Tayshus and told a wacky and ribald story using as many Australian "references" as possible. It was hilarious - even though I didn't understand all the references at the time. Check it out (warning: it is a little racy):
Ever since I heard "Australiana" I have had it in the back of my mind to write something similar - only using "Canadiana" - Canadian references in other words.
Well, earlier this week I did it - 37 years later - I published my own version. A CANADIAN version - called "The Most Canadian Highschool Reunion Ever". 
I would love you to look at it and see how many "Canadianisms" you can find. Let me know eh? I will tell you how close you got to the total number - comment below!
See ya round hosers!
Robert